| | |
| --- | --- |
| Rubber Chicken's Guide to Magnum P.I. Locations | |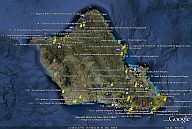 Rubber Chicken's Guide
as seen via Google Earth
Rubber Chicken's Guide to Magnum P.I. Locations
is an interactive, multimedia map (XML-based
KML
file) with over
360
Magnum P.I.
filming locations (including ~
500
individual "
placemarks
"), many of which feature extensive text, pictures, and web links. The guide was created by
Magnum Mania!
forum member
rubber chicken
and was originally released on September 3rd, 2008. The latest version is 1.5, which was released on December 29th, 2010. Many of the locations found by him required extensive research and some ingenious sleuth work!
Google Maps
was a valuable tool in tracking down many of the filming locations.
In order to use the file and view the data, you will need a
virtual globe
program. We highly recommend the excellent (and free)
Google Earth
program. It is loaded with features and very easy to use. Once you have Google Earth (or something similiar) installed, click on the download link below and the file will be downloaded to your computer. Navigate to that file and double-click it. Google Earth will launch and should rotate the globe and zoom in on Oahu. Within Google Earth, click on the arrow to the left of 'Magnum P.I. locations.kmz' in the 'Places' window (left-side of the screen) to reveal the list of locations. The locations are organized by episode number and name. In the 'Layers' window (below the 'Places' window) uncheck everything other than 'Terrain', or you'll have unnecessary clutter in the map window. If your computer is older you may even want to turn off 'Terrain' all together to see if that speeds things up, but try to leave it on if possible. If you double-click on the icon for a location ("placemark"), the program will "zoom" to that location. If you single-click on the hyperlink next to each loaction, something like
this
will pop up to reveal all sorts of information about it. Pretty darn cool!
For fun, you may want to try out the flight simulator that comes with Google Earth when viewing the guide. Fly around Oahu in an
SR22
(or an
F-16
) and see the filming locations ID'd below as you cruise through the air. The flight simulator keyboard controls can be found
here
. Whatever you do, don't crash into
Robin's Nest
!
Much thanks to
rubber chicken
for creating this fabulous, well-written, extremely detailed guide to
Magnum P.I.
filming locations! Your hard work is much, much appreciated! For comments and feedback, use the
forum thread
, or
email the man
himself.
File Download:

** Magnum_P.I._locations_1.5.kmz **
Created by rubber chicken
Version 1.5
12/29/2010
Version History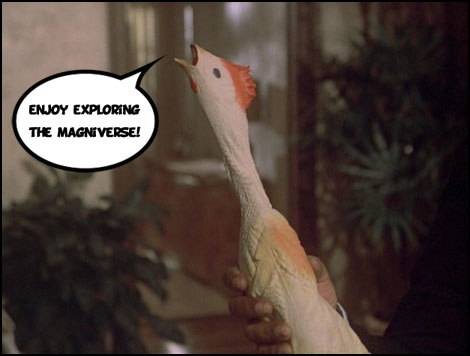 Thanks rubber chicken!
---