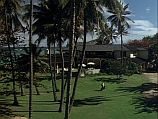 Robin's Nest for sale!
1/23/2014 - The Anderson Estate (also known as "Pahonu"), the real life setting for Magnum P.I.'s Robin's Nest, has gone on the market (41-505 Kalanianaole Hwy, Waimanalo, HI 96795). The 3-acre oceanfront property, with its beautiful 11,000 sq. ft. Spanish Colonial Revival main house designed by Louis E. Davis (built in 1933), has a list price of $15,750,000 (Sotheby's International Realty)! The assessed value of the property is around $8,000,000 and Zillow estimates it to be worth roughly $9,000,000. Let us hope that whoever buys the property will not tear down the main house and boat house and subdivide the property into multiple units. This is an historic piece of property. Renovate and restore, please!

Update: The property is now listed at $10,700,000!