I've just happened to see two movies in the last month in which
Robert Tessier
appeared. (Pictured below.)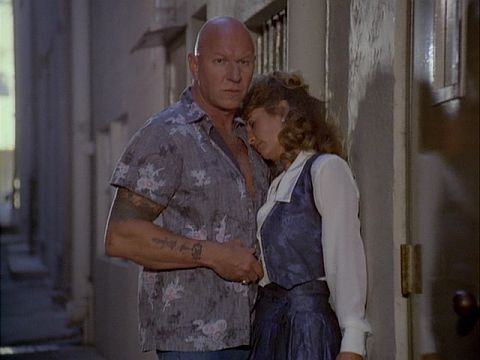 He had an interesting life, born in New England in 1934, he was of "Algonquin Indian descent." He served as a paratrooper in the Korean War, earning a Silver Star and Purple Heart, worked in the circus as a motorcycle dare devil, and was an "accomplished furniture maker" who made pieces to give to his co-stars.
He appeared in a large number of films and television shows, some of which include The Longest Yard, Breakheart Pass, Hard Times, The Cannonball Run, Little House on the Prairie, Kung Fu, Buck Rogers in the 25th Century, Starsky and Hutch, The Fall Guy, The A-Team, The Dukes of Hazzard, The Incredible Hulk, CHiPs, Amazing Stories, and was Mr. Clean in television commercials. youtube has two Midas Muffler commercials with him from
1983
, and
1985
.
The first movie I caught him in was
Hard Times
where he plays a very intimidating bare knuckle fighter who goes up against Charles Bronson. I didn't know at the time that Tessier had been on Magnum P.I. so I didn't get any screen shots, but he can be seen for quick flashes in the
trailer for Hard Times
(he's the bald guy).
And in
The Deep
he's "family" to the treasure hunter character of Robert Shaw (Quint from Jaws). The movie also stars Nick Nolte, Jacqueline Bisset, and Louis Gossett Jr. Magnum P.I.'s Bob Minor also appears in the movie, which I mentioned in
this post
.
Here he is at right, the man in the background is
Earl Maynard
, and the two get into a life or death fight involving an outboard engine!