This is an excellent episode IMHO, with some really good scenes. I love the "role reversal" setup here. Perfect timing for something like this.
I like the fact that Carol, Agatha and "Mac" are featured prominently. Each one is important to the development of the story. And Carol, with a jean jacket and new hairstyle, has never looked better!

The "tropical storm" narrations from Magnum are also really well done.
Doc Ibold wrote:
Whats cool is that "Limbo", "Infinity and Jelly Doughnuts" and "Pleasure Principle are all like one 3 hour movie. I like how they had the coma scenario play across all three, and they didn't treat it like some one off incident but more like the events os "Echoes of the Mind"/"Macs Back").
This is something that I didn't remember from the original broadcast - the fact that "Pleasure Principle" is so tightly linked to "Limbo" and "Infinity". Almost everything that happens in "Pleasure" is foreshadowed in the previous two episodes. Very cool!
Doc Ibold wrote:
2) Apparently "Conga" was the only Latin song in 1988 since they played it like 4 times throughout the episode.
Heh! Hey, I'm just glad they didn't choose "I Wanna Dance With Somebody"! But seriously though, Higgins (in a Aloha shirt) dancing at the club, with his arms in the air while slowly spinning around, is an iconic moment for me. It's one that will stick with me for a long, long time.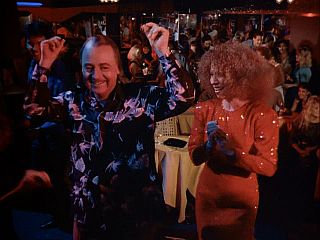 Doc Ibold wrote:
3) Higgins can bust a move, and has added another weapon to his arsenal - "The Dropkick of Devastation".
LOL
Doc
! Another great moment! Like the "Karate Chop of Doom" in "Magnum on Ice", this one is also preceded with "Hi Ya!" from Higgins!
Favorite Episode Quote:
Magnum:
If this keeps up, I'm afraid I'll have no alternative but to call Robin.
Higgins:
I see, so there IS a Robin Masters when YOU need him!!