Nice review
Shermy
. Well done. I couldn't agree more.
It's certainly an atypical, light, fun, romp isn't it! It's the
Love Boat
, but with thieves and murderers, and The Skipper from
Gilligan's Island
is running around.

Shermy
, you've mentioned a couple of times about how the ending, or denouement, can be so good that it elevates the entire overall opinion of the episode. For me, this episode is another example of that, and may be the best denouement of the entire series! The famous
"I Got Him"
ending, with TM sipping brandy and smoking a cigar in Higgins' study, while explaining the confusing mystery which just unfolded. (puff cigar) "I Got Him" (smile). Camera turns to reveal he's been talking to the recently injured Apollo. (pet Apollo) "Glad you made it pal". Just an iconic scene, one that only Tom Selleck could make so great. In almost any other actor's hands, this scene just wouldn't be great, or memorable.
"I Got Him"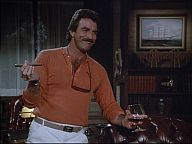 Interesting anecdote about this episode:
The ocean liner that was used for most of the filming of this episode, the
SS Constitution
, is sitting on the bottom of the pacific ocean. In 1997, it was being towed to an Asian breakers yard, when it began to take on water. They simply cut the line and let it sank, which it finally did almost two weeks later!