IslandHopper wrote:
2. This Flub is one of my favorites. After J. Doyle cons her way into Higgins' study and pulls the gun on Magnum and Higgins, she uses the red telephone to call Robin Masters. After a brief conversation with Robin, she hands the phone to Higgins, who speaks to Robin for 7 seconds. From Higgins' 7 second conversation with Robin, Higgins launches into a 61 second, detailed dialogue about the attempt on Robin's life, StarGuard, J. Doyle, Robin's plan to pick-up all of his tapes from one of his estates, etc. During Higgins' dialogue, Magnum interrupts Higgins briefly, but then Higgins continues with his dialogue. The question is: How could Higgins have gotten 61 seconds of very detailed dialogue from a 7 second conversation with Robin? This scene requires you to abandon all logic. I love it.
Haha! That's hilarious! For some reason, I didn't actually notice that when I watched the episode. Too busy trying to spot new artifacts in Higgins' study, or something. Threw off my concentration.

And thanks for the info
IH
, I'll add it to the Episode Guide.
Shermy wrote:
This episode is all about Erin Gray in that blue and red bikini. Some of you don't realize what kind of psycho-sexual hold this woman had on young impressionable minds around this time...from Buck Rogers to Silver Spoons.
LOL! Ain't that the truth!
Silver Spoons
, hehe.
I love the estate drawing that we see in this episode, which of course looks almost nothing like the real estate!: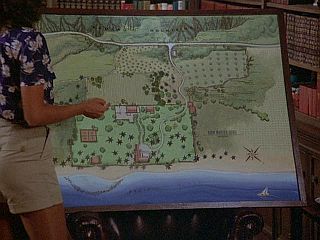 Oh, so
that's
where the guesthouse is! That clears everything up for me.

Great episode, though!