As a big Carol Burnett fan, I really wanted to like this one. Sadly, it falls short for me, mainly because of the predictable, cookie-cutter script and the one-dimensional, highly annoying, characters.
The Magnum/Susan scenes didn't seem to work as well here - they seemed a little too outlandish and forced. "Rembrand'ts Girl" was much better, IMHO. Susan's wardrobe also bothered me for some reason. I know she's supposed to be a throwback gumshoe, but did she have to look like she just walked out of a Dick Tracy comic book, or something?
This episode
does
feature what has to be one of the best Higgins "Oh My God!" deliveries ever, though!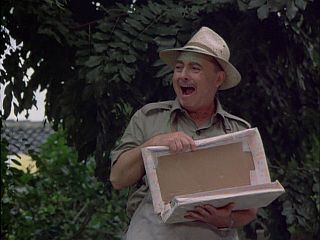 http://magnum-mania.com/Audio/oh_my_god_2.wav

Truly terrifying! It's a good thing Magnum high-tailed it out of there before he opened the box!