Sad news to report: I believe the the home which "was built for Princess Kahiwalani" was torn down in 2002 (originally built in 1922). I don't have absolute proof, but a number of clues make me very confident that
this location
is correct. Two of the more obvious clues are the driveway and the position of the mountains and ridges seen in the show, but there are a number of other clues which also confirm the place.
The home is located less than 1,000 feet north of the home used for the
residence of Carol Baldwin's mother
, Abigail Baldwin, in The Love That Lies (the next episode after this one - 8.6). That home is now known as College Hill, but both homes were built in the
College Hills tract
(linked from
this page
), the name of a small area of land in Manoa Valley which was being developed in the early 1900s.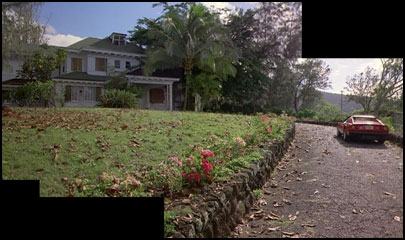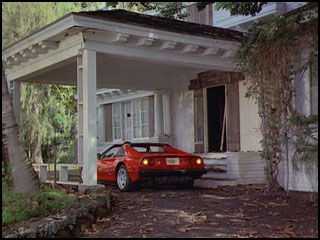 If you care to see the area, take a look at
this photo
from Round Top. (To find the property click "Original" to enlarge the image, then from the very left side of Diamond Head look directly downward past the larger buildings (of the University of Hawaii) and the large area of trees. Below this, a small stand of pine trees in the sunny part of the photo is visible. The home was directly left of these (a new home was built in the same approximate location). Part of the large yard is seen.)
Here's the area of the property cropped out to help in recognition:

The home now known as College Hill can also be seen in the picture, a short ways to the right and up, starting from the Princess Kahiwalani house: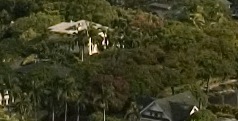 And here is David Kaimi's quote about the house and where Victoria Keyes might be...
Quote:
"Oma'oma'o Valley" [green valley]

"A house was built for Princess Kahiwalani and her husband. It was never lived in. William Keyes said his wife was obsessed with restoring it and living in it. He said she wanted to recreate Kahiwalani's life."