This is a really good, fun episode with a cool mystery/twist. The climax was kind of hokey, but overall the episode is a nice lead-in to the series finale.
It's good to see Luther, the lovable 'ol gumshoe from St. Louie, again. I've always been a big fan of this character. And hey, he knows how to throw a party, huh. His guesthouse party was really swingin'!
Love the opening scene with Magnum going through all of his "stuff". He appears to have another handheld computer game, maybe a Coleco sports game of some kind...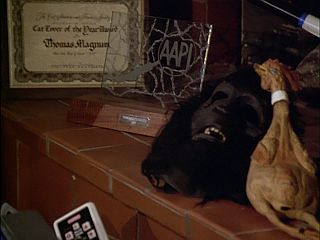 ... and notice the "Cat Lover" award. In "Photo Play" he received a "Cat Lover of the
Month
Award". Here he has a "Cat Lover of the
Year
award!

I really, really like the "change/transitions" narrations from Magnum. Grandfather Sullivan sure was a cool guy. I want to go hunting for wild asparagus sometime.
Is it just me, or did anyone else think
"Supermac"
when hearing about "Malcolm MacDonald"?
If you want a good chuckle, at the 25:24 mark, when Luther is walking with Suzi and Cleo on the estate lawn, take a look at Suzi when Luther says, "Wham!". It's a you-have-to-see-it-to-believe-it, involuntary, ... uh, upper body ... "flinch".