Doc Ibold wrote:
However, Higgins at the topless bar was CLASSIC.

I can honestly say that I have never seen anyone look so put out at a topless bar.

The expression on his face is priceless!
Yeah, great scene! And he was watching "Halle Berry". Ok, her name is probably spelt "HOLLY", but still pretty funny! When T.C. mentioned her name over the phone, I literally laughed out loud!
I don't know if anybody else noticed this or not, but there is a weird, subtle little moment at the beginning of this episode that, if noticed, causes a die hard
Magnum
to do a double-take, then laugh hysterically. Towards the beginning, when Magnum first visits the "Anagrams" office, he strikes up a conversation with the manager. In the background a gorilla suit can be seen....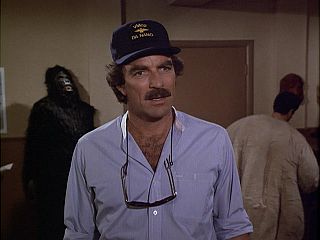 The camera then cuts to the manager and then QUICKLY (in like 2 seconds) cuts back to Magnum...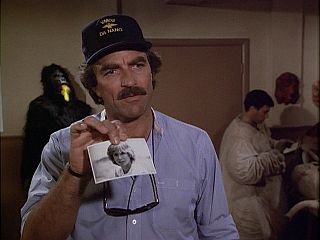 Look at that, someone stuck what appears to be a rubber chicken in its mouth! LOL!

Only on
MPI
do you see stuff like this!