J.J. Walters wrote:
Regarding the other Ferrari's color, here is a screen shot: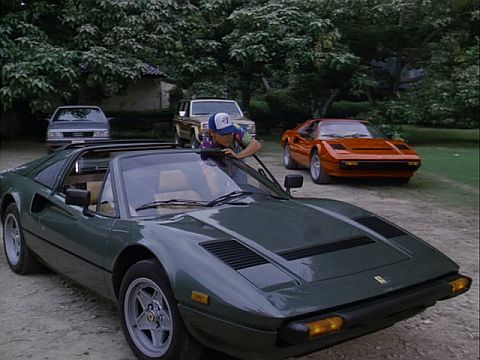 I have, uh, "issues" with certain colors (particularly green/grey), so I have no idea what color it is.

Croix de Lorraine wrote:
And the Ferrari is definitely green.
marlboro wrote:
That looks gray to the point of almost being black to me.
That Ferrari, as it appears on the NTSC DVD release, is gray. Here is a 5×5 pixel average sample taken from the lower part of the door:
As you can see, the RGB value is 60, 60, 60, which is a perfect shade of gray. Any color which consists of equal parts of red, green, and blue is a perfect shade of gray, except for 0, 0, 0, which is black, and 255, 255, 255, which is white. I had to test a few spots to find a perfect shade of gray, but regardless of where you test on the car, it is always close to gray. However, green is never the most prominent color; the order of prominence, from highest to lowest, is always blue, green, red. For example, here's a sample from the hood:
So if it could be called anything other gray, it would be blue-gray.
Given that the various shades of green in the lawn and trees show up fine, I can only conclude that the car was gray in reality, just as it appears on the DVD, and Magnum calling it "green" in the episode was an error.