This episode is quite funny but also idiotic. I can relate to the annoying tennis girl theme in this episode. Back in the day, I recall a number of real attitudes from some women tennis players who would scold me for just watching them play at beach clubs. I guess their unforced errors were too much for them so they had to take it out on the boy who was just a spectator. Something about tennis and female attitudes back in the 70s and 80s that are unlike any other sport, the producers must have had the same thoughts as me.
I thought Kim Richards did an excellent job in this role and is by far one of the more attractive guests in this series. I believe she is just age 17 when this was shot. It first aired when she was age 18.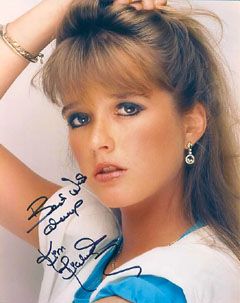 I read her writeup on Wikipedia which is interesting, focus on her personal life section: What a gold digger.
http://en.wikipedia.org/wiki/Kim_Richards
I put together the most entertaining clips from this episode and they include in this order....
1. Spastic tennis player hits nearly every ball but one off the court. Is there an editor in the house?
2. Higgins serves an atomic blast which Magnum can't handle and he is out for the count.
3. Temper Tantrum from the Teen
4. Rick gets combative, then romantic after making fun of the girls accent.
5. Teen hogs the court and annoys Magnum.
After turning on your speakers/audio, open the video link below, select 480p quality and the middle size video is best.
http://youtu.be/Y2sk2tlCxFc